SHIPPING POLICIES AND MISSING ORDERS
Shipping Timeframes:

Please note that orders placed with Film Supply Club after 12pm PST Monday through Friday will ship the next business day.

We do not ship on Saturday or Sunday and most couriers do not guarantee delivery on those days. Both UPS and USPS can deliver on Saturdays, but you should not count on Saturday delivery for a critical order.

Please do the math before you place any Overnight Air, 2nd-Day, or 3rd-Day Air order to ensure you understand when your package will arrive.

Example 1: A 2nd Day Air order placed at 1 pm PST on a Tuesday will ship Wednesday for delivery on Friday.
Example 2: An Overnight Air order placed on Thursday at 1pm PST will ship Friday for delivery on the next business day, which is the following Monday.

Please note that while Film Supply Club offers USPS Priority shipping as a courtesy to customers who prefer to receive packages via the post office, we do not guarantee any on-time delivery via USPS based on recent performance.

PO Boxes:

If you have a PO Box, please choose USPS Priorityat checkout.

Insufficient Address and Return To Sender:

It is the responsibility of the customer to enter an accurate shipping address. Film Supply Club is not responsible for any package that may be returned to sender due to insufficient address, wrong address, or refusal by the recipient.

If a package is returned to Film Supply Club, we will make every effort to contact the purchaser; however, we reserve the right to charge shipping a second time, and/or charge a Return To Sender Fee. If a package is returned twice, we will not make a third attempt. Film Supply Club reserves the right to deduct a restocking fee from any ultimate refund. Customers whose packages are repeatedly returned to Film Supply Club due to chronic problems with addresses and/or receipt of packages may have their accounts revoked.

Lost or stolen parcels:

Film Supply Club is NOT RESPONSIBLE FOR LOST, STOLEN, or DAMAGED packages. We recommend shipping insurance. For information about shipping insurance, see below.

COVID, DELAYS, THEFT and SHIPPING INSURANCE
Due to COVID, all of the shipping carriers are extremely overwhelmed because of the increase in online shopping. With this overwhelm, there has been an increase of mistakes made by carriers, packages showing delivered but are nowhere to be found, as well as an increase in doorstep theft.
For these reasons, we have implemented Route Shipping Insurance. Route protects you, the customer, from packages that are lost, damaged or stolen. We highly recommend you select this option. If you did not select Route shipping insurance, check with your credit card to see if they insure online orders for theft or damage.
Film Supply Club is NOT RESPONSIBLE FOR LOST, STOLEN, or DAMAGED packages.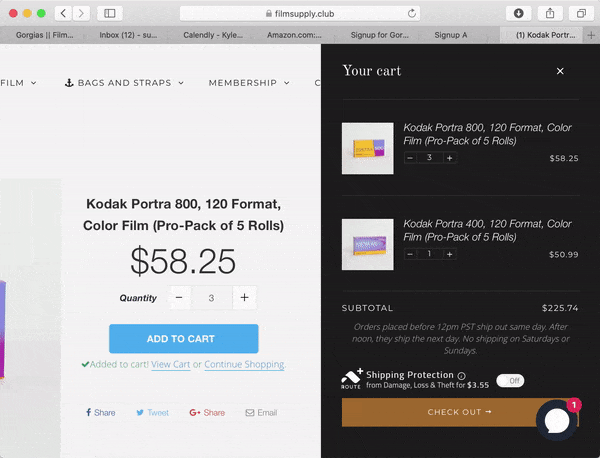 FILING A CLAIM WITH ROUTE:
When you purchase a product with Route Package Protection, you will get an email with your Route Order ID and a link to report an issue.
To go straight to the Report and issue form, click here.
Have questions about Route's policies? Read more here.

To report an issue from your email, follow these steps below:
1. Open your email from Route
2. In the email, copy your Route Order ID and then click Resolve an Issue
3. In the form, your email address and order number will pre-populate
4. Choose the issue with your order (lost, stolen, or damaged).
5. Add a description
6. Click Submit
Film Supply Club is NOT RESPONSIBLE FOR LOST, STOLEN, or DAMAGED packages.
SHIPPING TIMES NOT GUARANTEED:
If items are in stock, we ship out the same day with orders placed before noon PST or next day if after. Shipping carriers are not guaranteeing timing on deliveries so we also cannot guarantee them. Please order early vs. last minute to save yourself the stress.

UPS and USPS shipping timeframes are subject to change without notice. For the most accurate information, check the website of the shipping courier you are planning to use.